... more crafts are the order of the day.
A papier mache sun to hang up when (eventually) we can take those snowflakes off the wall! He was made by cutting out a large sun shape from heavy card, a large circle for the middle, and a smaller circle on top of that. I glued those down while the girls were tearing up newspaper. Then we covered the whole thing with about five layers of paper and glue, and I used long twisted bits of paper to make the features before doing the top layer of flat pieces myself as it involved lots of smoothing down of very lumpy and yucky glue that I did NOT want to be washing out of certain children's hair. ;)
Just needs a coat of paint when he's dry... Or a couple of layers of tissue paper... I can't decide which.
Painting a watery wall hanging, in blues and purples. This time, with no batik tool, I painted swirls on with the end of a semi-melted candle (with no children in the room for previously stated reasons). Then the girls went mad with the paints, watered down a bit because we didn't have much left! When it's totally dry I'll iron it between sheets of newspaper to take the wax off. :)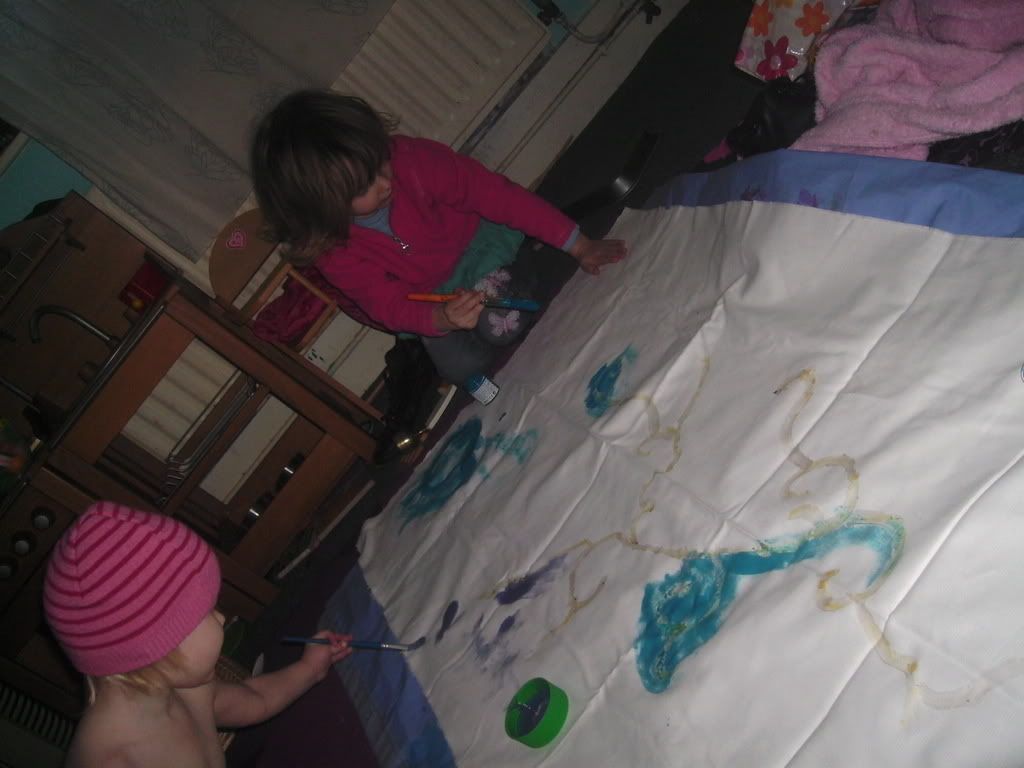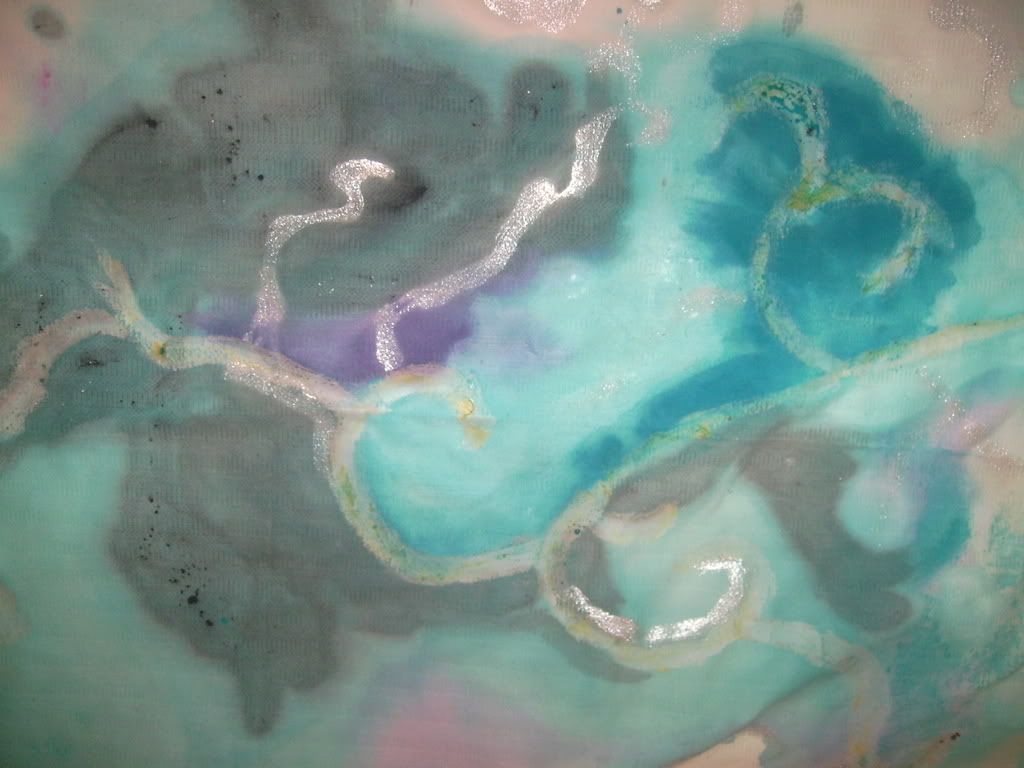 Little spring gnomes, to help Lady Spring in painting the world green. Jenna is now demanding a smaller set of seven for playing Snow White.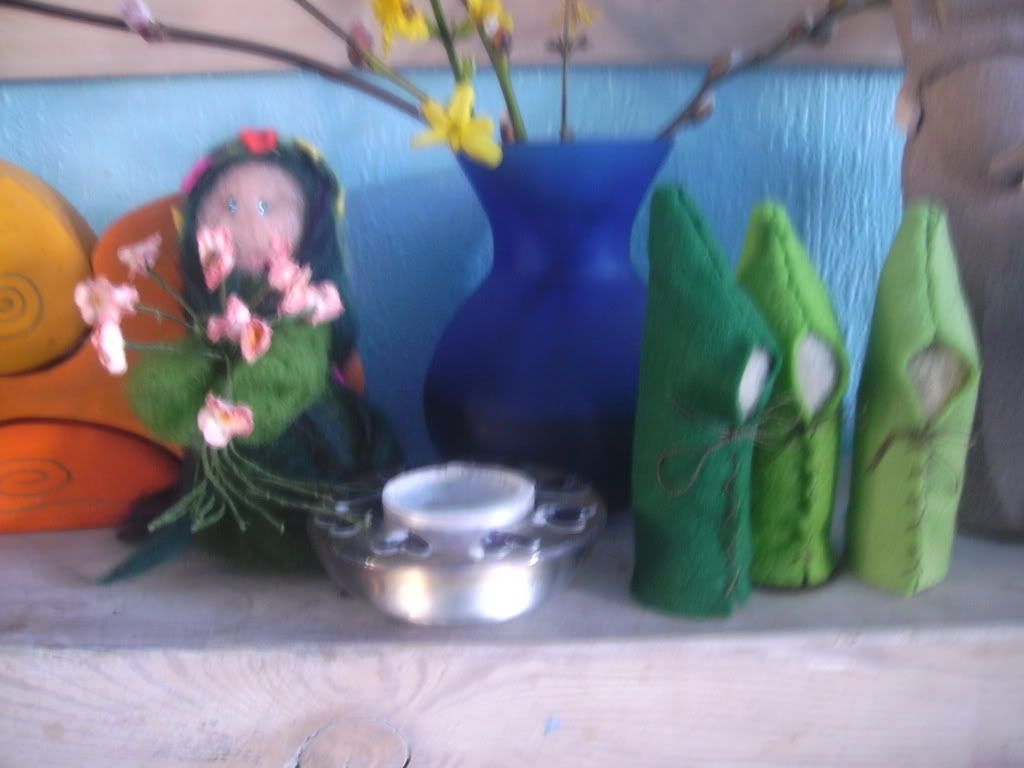 Also today: gifts from afar, a cute little crocheted basket with knitted fruit (thankyou so much Joxy, the girls adore it!) and nappies (which Morgan seems not to leak out of so far, but then neither has she kept them on for more than ten minutes). What is it with this toddler and being stark naked? It's COLD. And yet she still comes in from outdoors, takes of every stitch of clothing including nappy, and runs around happily undressed. As you can see from pretty much every photo of her. IT'S REALLY COLD!
Anyway, presents. :)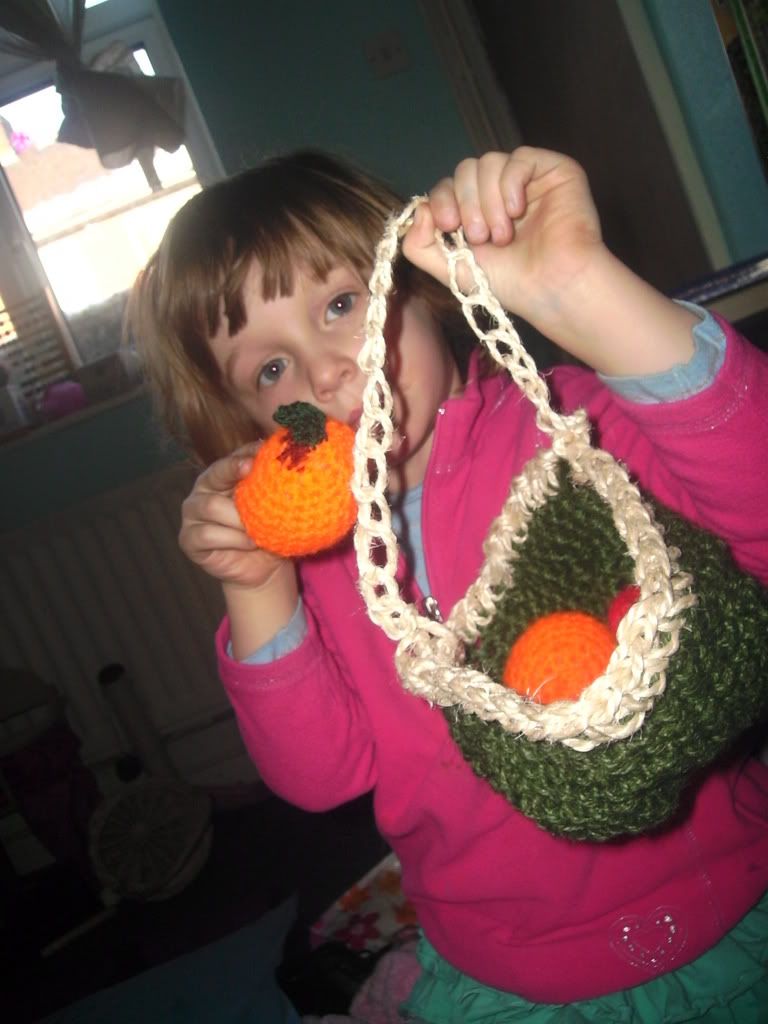 Slightly less wonderful: as soon as I got everything out to make cookies, the phone rang. It only took that two minutes withme gone for Morgan to SMASH OUR LAST TWO CEREAL BOWLS and break two eggs all over the floor. Ack. Cue short hysterical hissy fit, followed by apologies (from me *and* from the teeny monkey), followed by a really major clear up.
Ah well, the cookies are so worth it.
Chocolate and cherry flavour, and not *quite* to Joxy's recipe because I've run out of coco powder and didn't have enough nice chocolate. Ah well, they're still very very good. :)