Well I've been making a few more little presents, bits and pieces and playing with materials. I'm not going to post alll of the pictures lol, but a couple that I really like (and first attempts of things too).
The cute little bunny was for a friend's little one, but he's the nicest little scrap-rabbit I've made in years so obviously I have to show him off. I've made a couple of similar ones this week for other little people I know.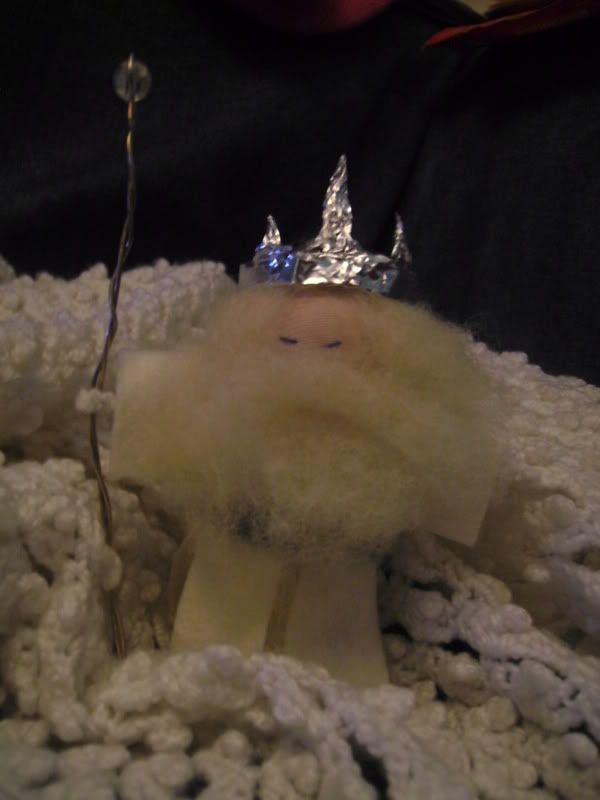 I'm quite impressed with this - basically one of my cocoon babies, but with clothes and a beard. I wanted a Father Winter for the season table, and thought he came out quite nicely really. My felting is slightly less successful on the whole than my sewing lol, so this is the best I could do.
There's something really whole and positive that comes out of making something from nothing. At a time when I mostly doubt my parenting skills and mostly feel down about what I can do, I can make things with my hands and just for a moment put aside everything else. Things that don't ask anything of me, but make me feel just a little bit less hopeless and helpless - because, really, what the crafts are all about is the joy of the people recieving them.
I guess this is occupational therapy for the depressed mama, right? The children have been gone during the day (out with grandparents) for three days now (something else to feel guilty about but knowing that it would be so much worse if I was continuing to let them be hurt by my mood swings and helpless crying). Morgan has been back to nurse at night. Tomorrow they come home for real, and to be honest I'm terrified of a repeat of last week, no matter how much I think I've worked through these last couple of days by myself.