Courtesy of getting hubby a photobucket account he doesn't know about (yup, I managed to max out flickr as well, don't ask me how)! Bound to now keep messing up resizing having gotten used to a different system...
In mum's garden, Morgan's favorite outdoor activity - spooning sand OUT of the sandpit and INto any available receptacle. The plant pots have a nice dusting of sand on top of each one, and the birdbath is a bit unsuitable for bathing in.
Our sandpit is going to be built soon, well, as soon as we've managed to trim the weeds down a little bit so we can find the least bumpy place for it, as our lawn only gets two haircuts a year generally! I can see me getting a bit sick of asking for the sand to stay in the sand area; but then again we have VERY wet heavy soil so maybe sand everywhere can only be an improvement?
Oh I can't wait to be spending the summer in the garden, eating outside most days, nursing a small baby on a bench in the sunshine, watching helplessly as the children dig up the onion sets again because the baby is asleep, laughing at Jenna's blackcurrant-stained face, seeing another little person touch grass for the first time - and soil, and sand, and brick...
We burned some old broken fencing on the firepit, and the girls stayed back with far more wariness than I expected. Our first fire of the year actually, and they seem to remember how hot it is without me fussing.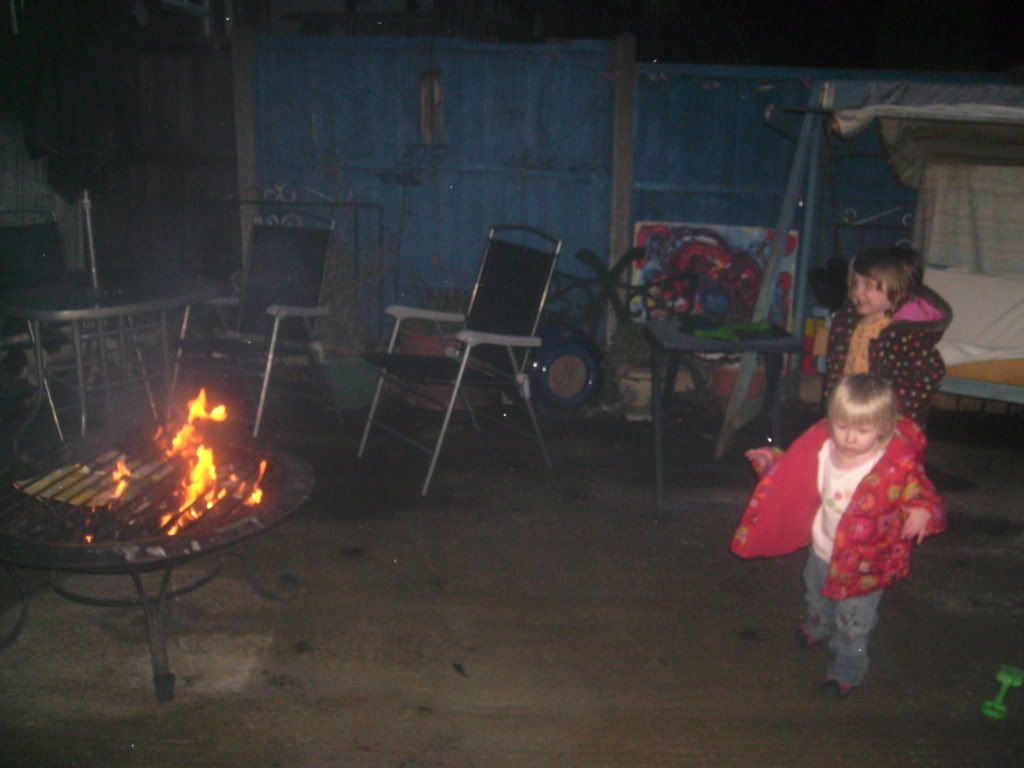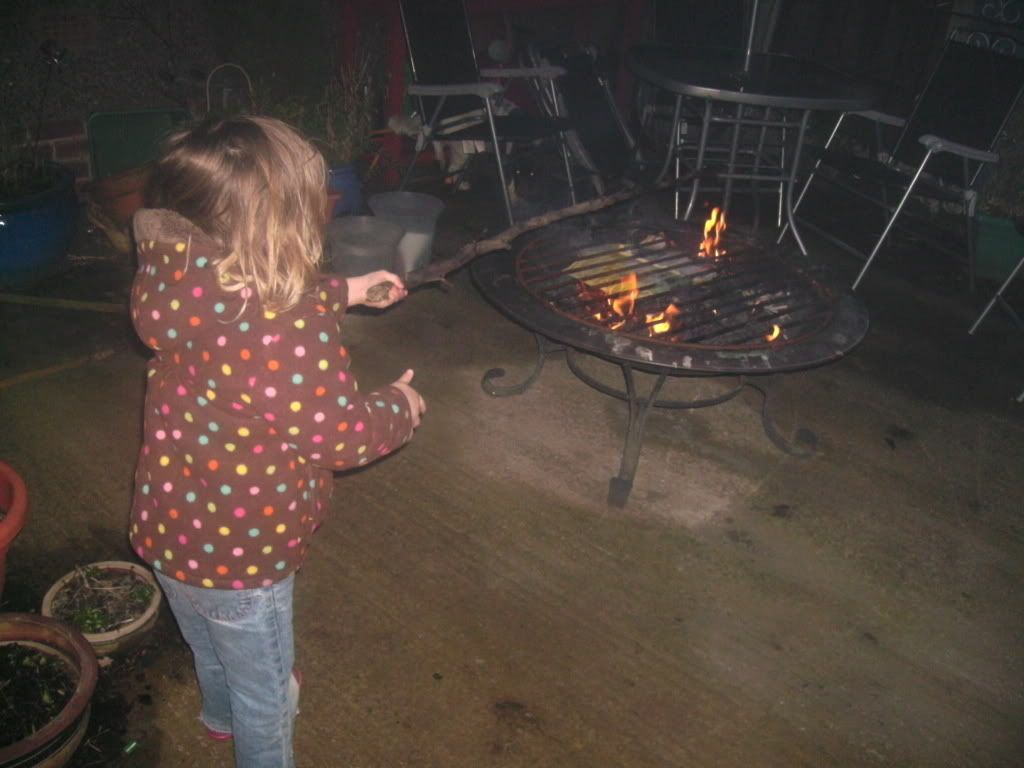 Mum also introduced us to something wonderful - a brand new farm shop, who MAKE THEIR OWN ICE-CREAM!! Yum. We came home with a big bunch of daffodils from mum, and a big tub of strawberry ice-cream from the shop. It only lasted about two minutes after I took a photo.
On Sunday afternoon we were at the in-laws for the first time in months. We walked to the park Martin used to play on as a child - apparently nothing has changed - and Jenna demonstrated her scary upper-body strength by climbing fearlessly up a frame taller than I am and then lowering herself slowly by her arms to drop down inside it!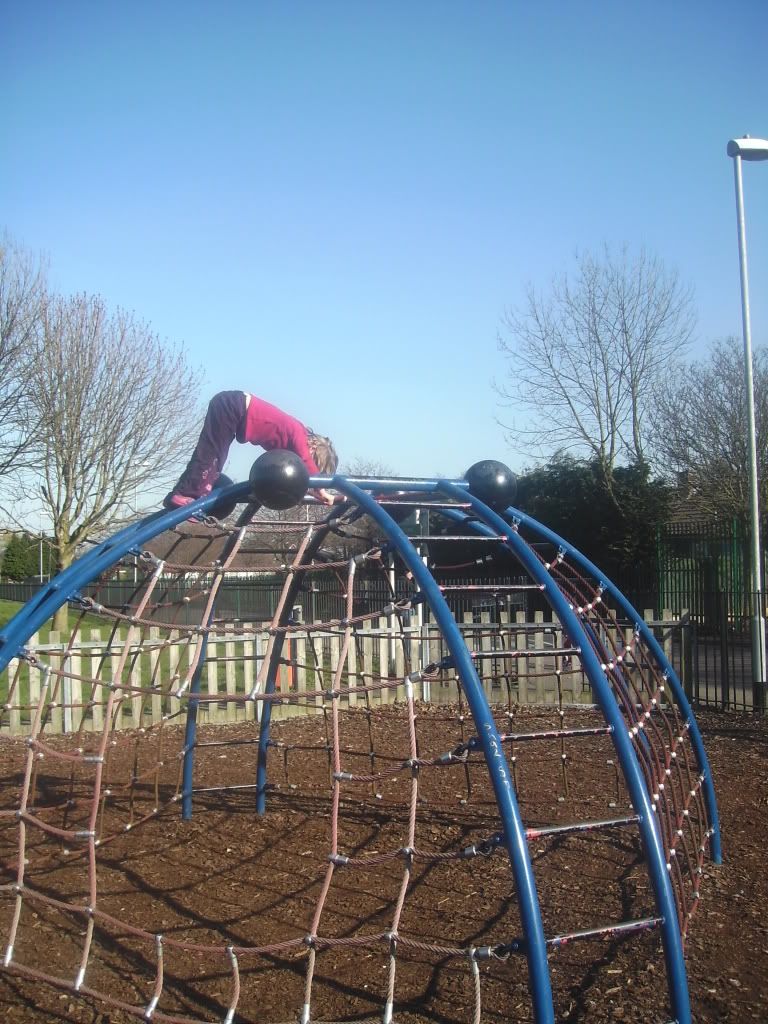 Morgan ALWAYS spots anything in the sky - be it bird, "airpwane", "eecopter", or "buwoon"!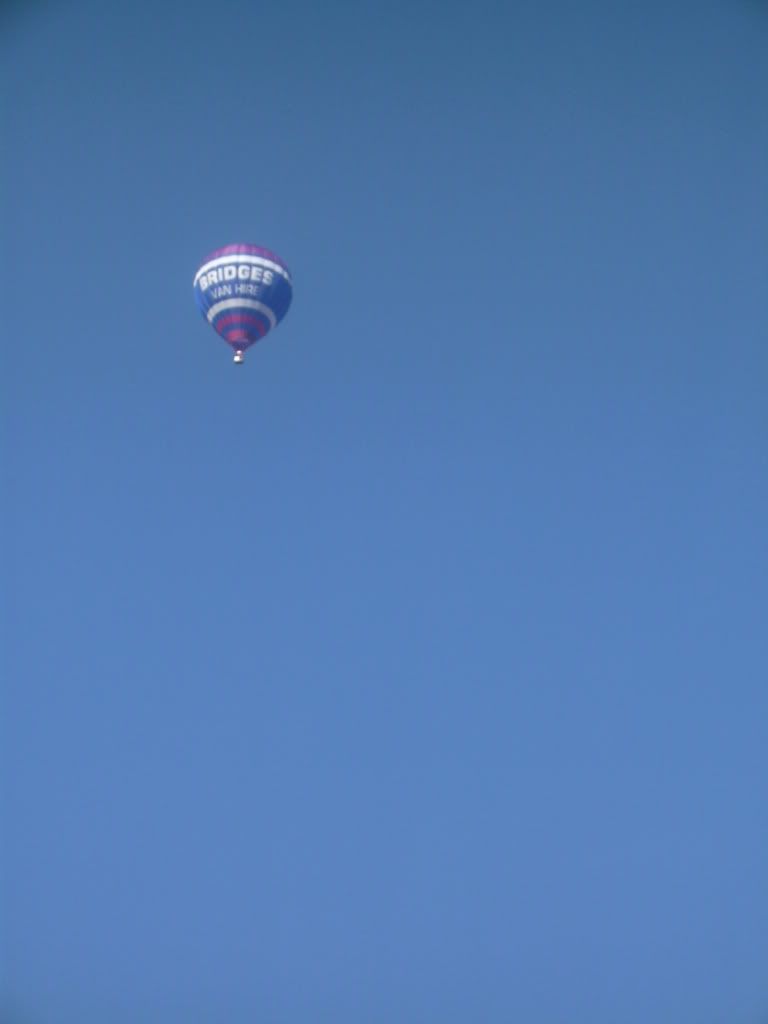 She's a transport nut at the moment. How can a child who can't say her own name yet and who rarely strings more than three words together have so MANY words for kind of transport? She differentiates between van, truck, lorry, car, train and bus with the ease of a much older child.
Feeling huge and uncomfortable still. And a little jealous that everyone else seems to be having their babies before me! But it will be my turn soon. :) There is just so much to look forward to!
This is the closest I have to a new bump picture, one of three sari ring slings I'm making for GP mamas (the only one I already had the rings for lol so the first one to be made)!