I am as full and round as the moon!
Apparently this makes me a good canvas.
And the little artist? She's also a budding babywearer and keeps asking why I won't make her a sling especially to wear the new baby in... I've promised her a doll mei-tai, but insist that she's still a bit small to be wearing her siblings.
This afternoon I had a scan to locate the placenta. I was feeling a bit wierd about it, but it all turned out pretty good in the end. :) Placenta is high, precisely my feeling about it, baby is very engaged, facing the way I thought, and (also as I have randomly dreamed) baby has a slightly small head like Morgan's! The only comment the sonographer made that wasn't in direct answer to a question I asked is that I have a LOT of amniotic fluid (again, I've had lots of dreams about my waters breaking EVERYWHERE unexpectedly!). Basically in every way it confirmed my instincts and made me feel confident about those things that I've had feelings about knowing which medically I have no way of *really* knowing.
And I'm glad I didn't "meet" my baby on the screen. It didn't take nearly as much self-control as I'd thought, I found I just knew I didn't really want or need to see.
I caught a glimpse as I was talking to my student midwife, and noticed with a little happy shock that I could see a little arm clearly wrapped around baby's cord! I mused to Martin on the way out about how aware baby is of the cord and whether it will feel an attachment to it - we are planning a lotus birth this time and this thought honestly hadn't really occured to me before. I'm so glad it wasn't another horrible hospital experience again and that our decisions were respected.
Also, my scan form asked for baby's measurements and something else I can't remember, but the sonographer didn't take them because I asked her not to. No argument, no question, she just did as I asked. And was polite and friendly about it. What a shame all the other people we've dealt with over the years aren't like that!
This picture is more assorted baby things that haven't been otherwise commented on. Special thanks to Kim, and to Broken Man and Wife.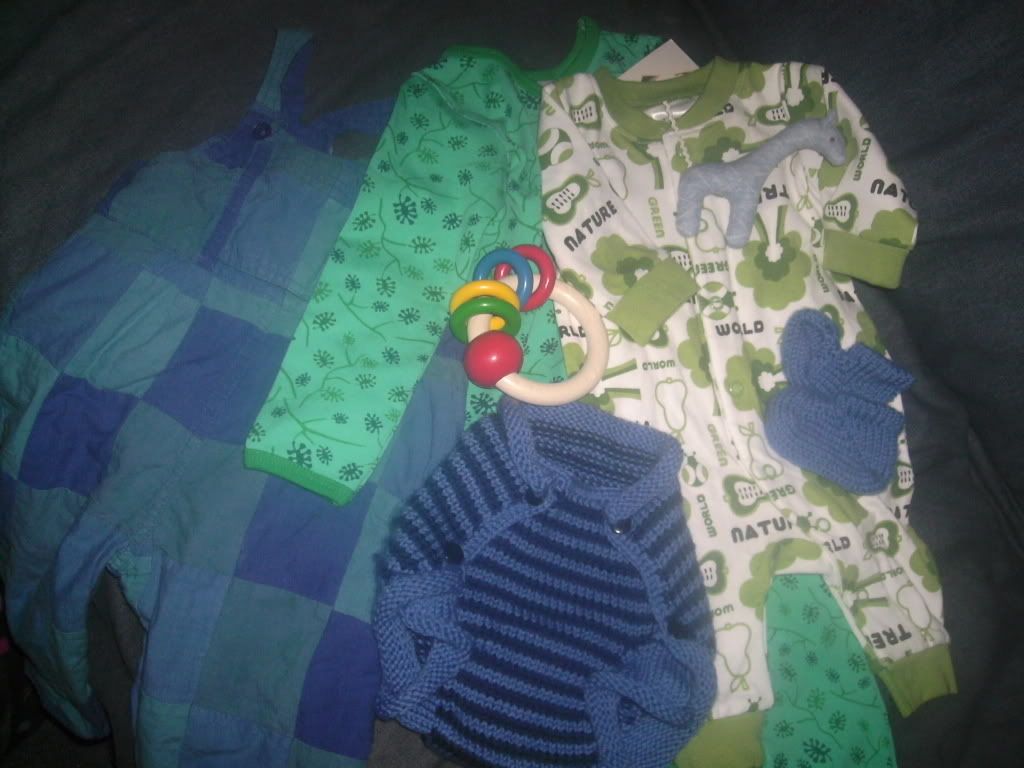 Some of these things are very cool trades and second hand buys, and a couple are lovely new natural baby gifts. There will be a real small person holding and wearing these SO SOON. I think my mind is still a bit doubtful that all of this pregnancy is really going somewhere so wonderful.
I might pop back on with another picture later (if I ever finish it) because I've been making a tiny fleece poncho this morning and the embroidery is just too cute. It's so nice to make things for my own baby. Really really good and whole. I think I'm starting to feel like that strong powerful birthing woman again... :)
Here you go!