Jenna quote of the week: "Oh Rowan! You pretty baby... Your eyes are a bright sea of magic!"
I found these sweet pictures from last week and had to post them. Apart from that baby yawn (oh how I love the baby yawn) the thing I most love about these snaps is the look of total pride and adoration on Jenna's face.
Both big sisters have this identical look whenever they spy the baby - every time they swoop in to kiss a little fuzzy head poking out of the top of the sling, every time they peer in consternation into a squalling car seat (I HATE the car seat, and so does Rowan!), every time they have a conversation with her, little grunts and coos responding to suddenly very adult-sounding chatter.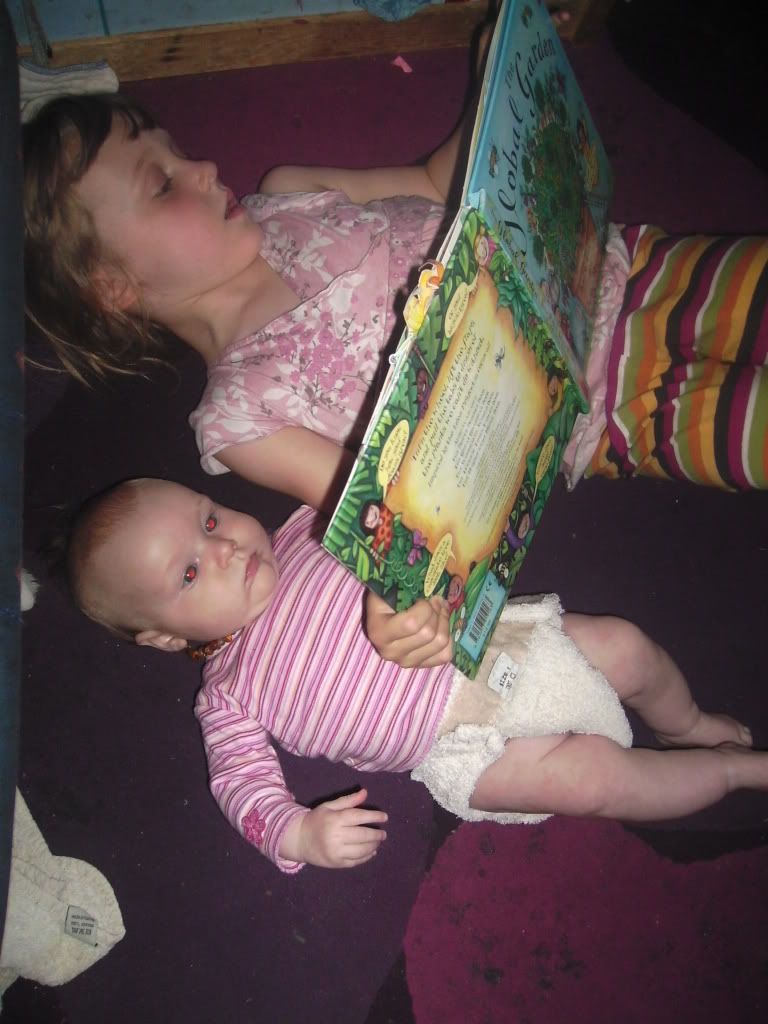 Yet everywhere we go, adults leap in and "rescue" the baby from Jenna. Morgan hasn't tried to pick Rowan up yet, she seems to accept unquestionningly that the baby is heavy (lol) from the regular holds she gets. I try not to turn down sibling requests to hold Rows unless I'm nursing or Rowan seems really fed up. I can always gather her back into my own welcoming adult arms if I need to!
The worst displays are when Jenna actually carries Rowan in her arms. The first time she asked, I wavered too. What if she drops her? But I decided to let her see her own limits, and do whatever she was capable of. She is SO careful, so now as long as she asks first she is allowed to carry Rowan. On soft surfaces only. But any time an adult has seen this, they go crazy, "CAREFUL, don't drop her! You shouldn't be carrying the baby! Don't hurt her! You're doing it wrong! Give her here!"
Note to adults: Mama is right here. I know where the limits lie with each of my children and I want them to be allowed to be competant! Your idea of safety might be very different, and that's OK. You can even tell me you think I'm making a mistake to allow my children to do certain things - that's fine. But please don't try to overrule my parental decisions. And don't make my four year old so nervous she drops the baby. ;)