For a few days now, Rowan has had a bit of a cough and been generally under the weather. Of course, now we've been told it's swine flu... But if it is it isn't bothering any of us much (only me lol, splitting headache) - mostly it just means we're stuck here rather than risking passing it on. *sigh*
I certainly can't give her medication, because we haven't weighed her LOL, and I can't take anything because nobody is sure about breastfeeding. Ah well. *shrugs*
So we traced each other today, and coloured in clothes on some of the outlines, and did body parts on others. Then we read. Did some yoga. Watched The Secret of Moonacre (Jenna and I now want to live there, thankyouverymuch, with the bedroom that has real stars on the ceiling and the fairytale faux-gothic dresses).
Then we played in the garden, picked more broccoli and ate it raw, gathered and dried some more rose petals, picked our first tomatoes. And when we came in we finished the Very Hungry Caterpillar picture we were making a couple of days ago.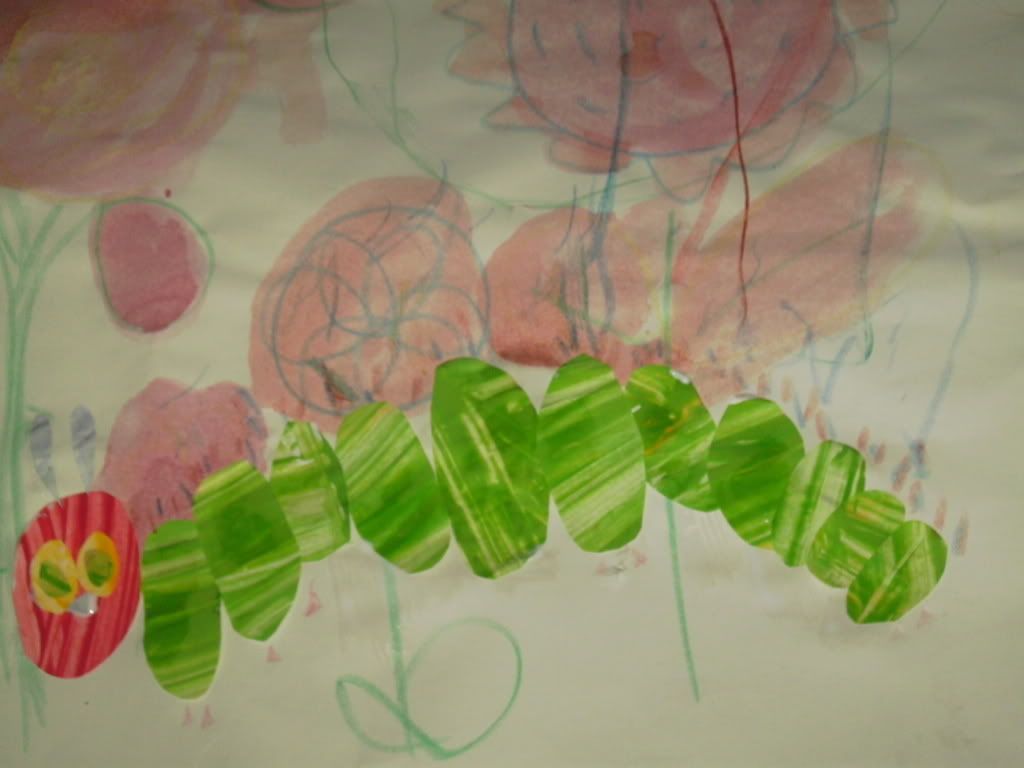 Also, I had to take another picture of Jenna's game with the small figures! She had several birds, a baby dragon, and a horse, all eating a fried egg together today. For reasons known only to herself...
Hmm, what else? Oh, gorgeous pre-loved clothes and books came from Gina today (thanks Gina!) so we have plenty to read. And Myriad sent our order of Birthday and Christmas presents (oh yes, nearly halfway with Christmas making and buying already) and it's SO tempting to unwrap everything. But if I don't leave it boxed up then the smalls will find something they ought not!
Off now then, to drink another herbal tea and hope that I feel better tomorrow... It's never really quiet around here. Can't decide today if that is a happy thought or not. I think, on balance, it is. :)