So here is all of the girls' hard work printing and fabric painting; the vest with the tree painted on it is all my work, and I helped with the more complicated shapes for printing, but the tiny t-shirt with "fireworks" on it is all their co-operative effort! :)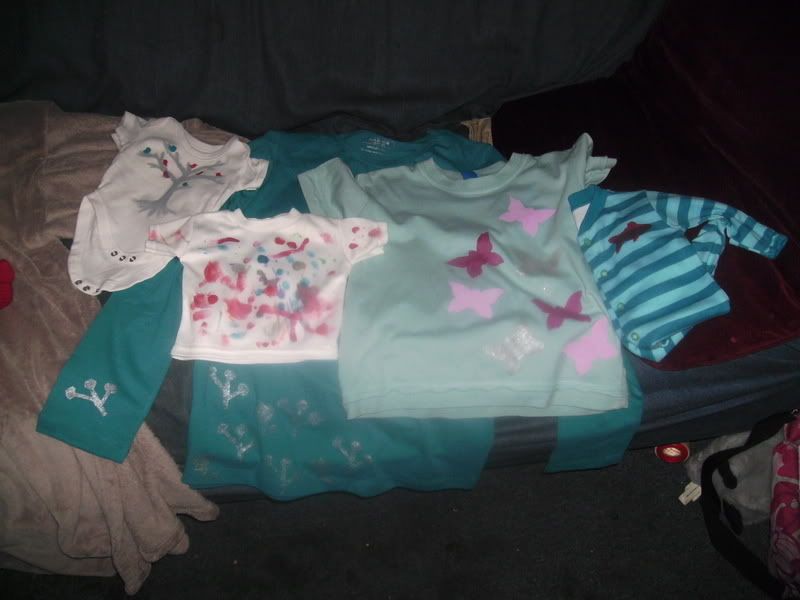 And a lot of dying, to liven up some pale pale blue and a couple of white baby items. The tie-dye sleepsuit is much more brown than pink, but I took this picture at night without a flash. The giraffe top was a 50p charity shop find in black and white, and Martin hated it. He's much more keen for some reason, now that it is bright orangey-red.
Here I am, wearing the turquoise maternity top that Jenna printed little leaves and flowers all over. You can't see much of the t-shirt, because Morgan is in the way, but to my mind that just makes for an even better picture. ;)
All of the pregnancy weaning urge has faded now, in fact there was less of that than I expected (nursing Jenna in pregnancy I found VERY frustrating), but even those few INTENSE moments of "oh just leave me alone" have gone. Don't get me wrong, I'm still nursing a toddler and so still have those moments to some degree ;) and plenty of times when she asks for milk and I say no because I'm busy or feel like saying no because I'm not in the mood. But then when I take her in my arms it's like that wonderful newborn honeymoon phase all over again, when the tough bit is starting to be just a memory and you can lose yourself in those baby eyes for hours.
I've been a bit quiet about this, I suppose because it's just unusual to talk about breastfeeding a two year old in most circles. But I really love nursing her again, and I've come round from just wanting it to work out and knowing that it's the best thing for us, and truly enjoying the closeness and peace it brings to a very chaotic time!