Well, let's face it, Jan 1st hardly even warranted a mention around here due to lack of energy and not feeling very inspired by our national celebration of such times and seasons... Not to mention really NOT wanting to stay up to hear the inevitable drunken rows outside on the street (apparently it was actually warm enough for the domestic disputes to begin taking place out of doors so early in the year)!
Anyhow, as my thoughts start to turn towards spring projects, we celebrate Chinese New Year - which is much more fun than the UK version and involves colourful decorations and lots of craft projects. I can get 100% behind that kind of festival, plus it starts interesting conversations about different places, cultures, and faiths. And, as I say, colourful decorations.
The table prepared for yesterday morning, with library books and musical instruments, gifts for later and craft project ideas aplenty.
A dragon puppet. Well, why would anyone not want to play with one of these?
Lovely new chinese dresses, from a very kind lady on the local market who gave us a substantial discount, and gave presents to both of the girls.
Gifts from us - not the traditional envelope with money, but a small purse for Jenna and a shell bracelet for Morgan. In BLUE envelopes, with red and gold labels.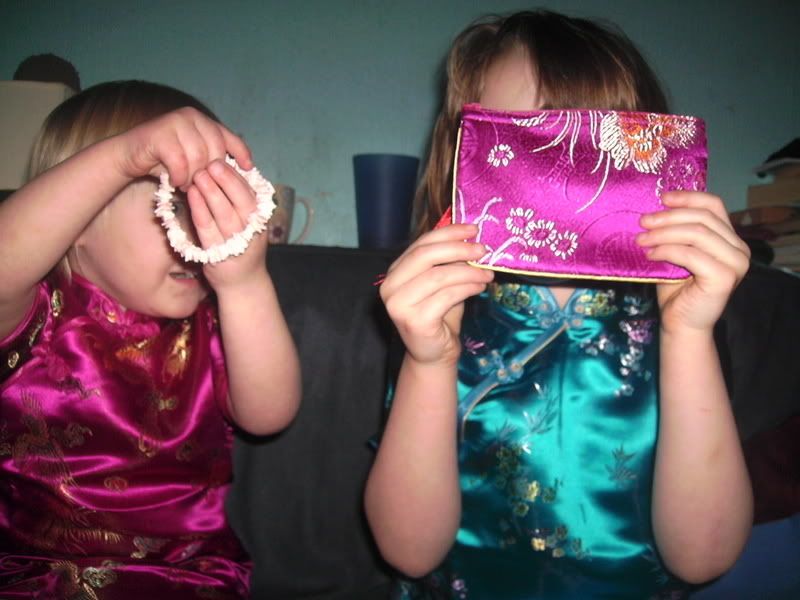 An enthusiastic lion dance by Jenna, with accompanying din from Morgan.
Hmm, and Martin entertaining the children some more while I finished making tea - silly daddy, but COOL lion mask, right?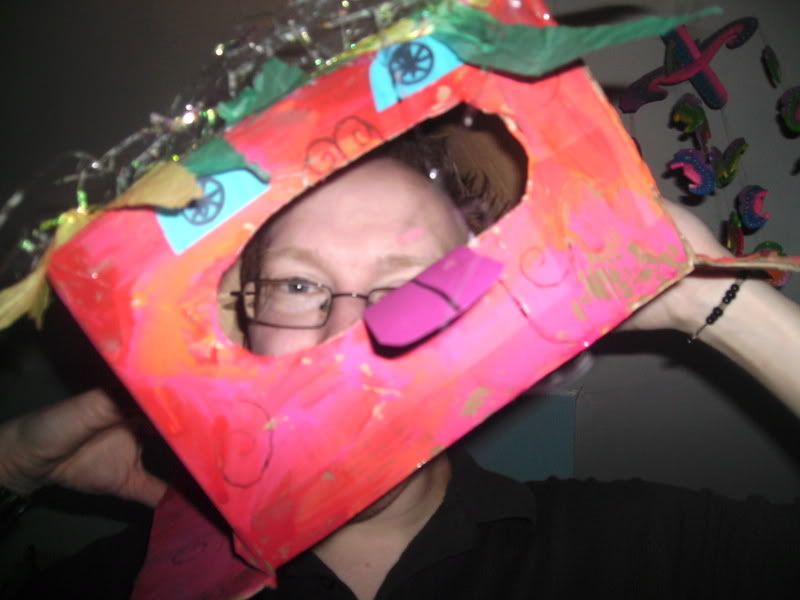 We had egg fried rice, soy noodles, spring rolls, prawn dumplings, chilli beef with vegetables, and then mango and peach slices for pudding with some yummy organic yoghurt (yeah, not EXACTLY traditional but we don't mind!). My children can eat masses of egg fried rice. And they're always happy to get any kind of pudding in whatever quantities I'm willing to make!
After dinner, we wrote little cards with our hopes for the new year and burning them as we prayed together about our hopes and dreams and plans for the coming year.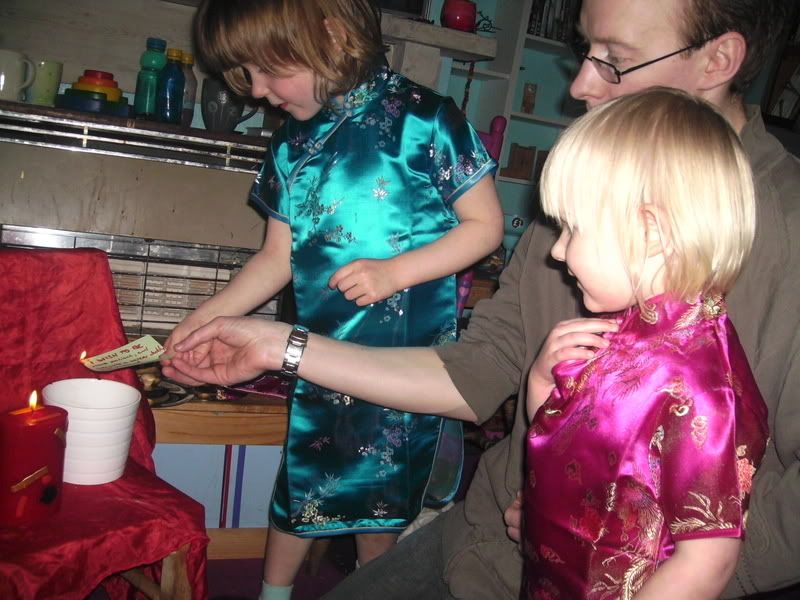 Jenna's wish was for a rain of peaches. Pudding very nearly fulfilled that wish within fifteen minutes; although I still think she'd rather the peaches had come from the sky as she had hoped. When we asked Morgan what she wanted in the new year she just tapped the card and said, "draw, dis" so we let her colour it in, and thus she also had her wish come true! :)