Jenna's birthday was really lovely and peaceful. She got up in the morning to find a little trail of stars to a birthday crown and her presents, and a table decorated with flowers and a candle for her to blow out. As with much of the rest of the day, I missed the opening of presents because I was being ill in the bathroom. *sigh*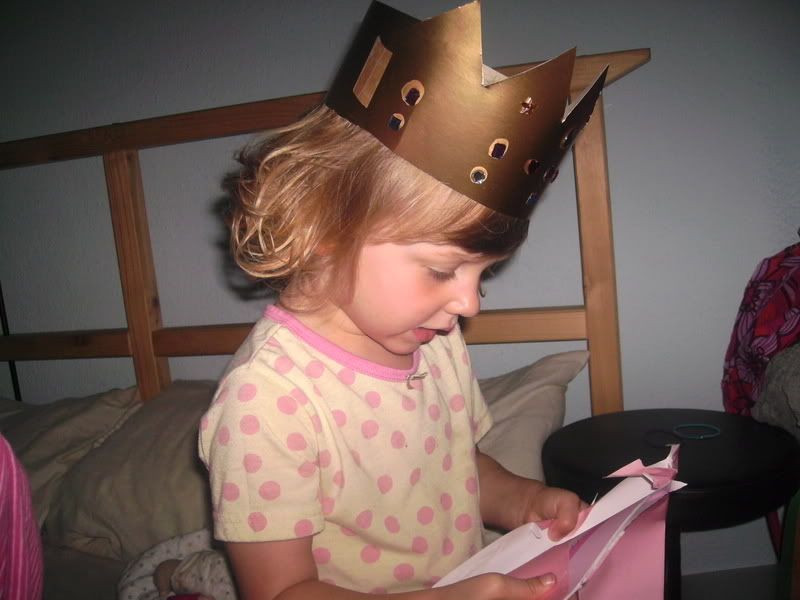 She had a picnic with the pastel tea set from my mum, and otherwise spent most of the morning in playing with her new Ostheimer horses. The first thing she did when she got them was make the baby breastfeed, a proud mummy moment lol. We had a quiet walk, and inevitable ice-cream, and then, because birthday money was burning a hole in her pocket, went Toys R Us.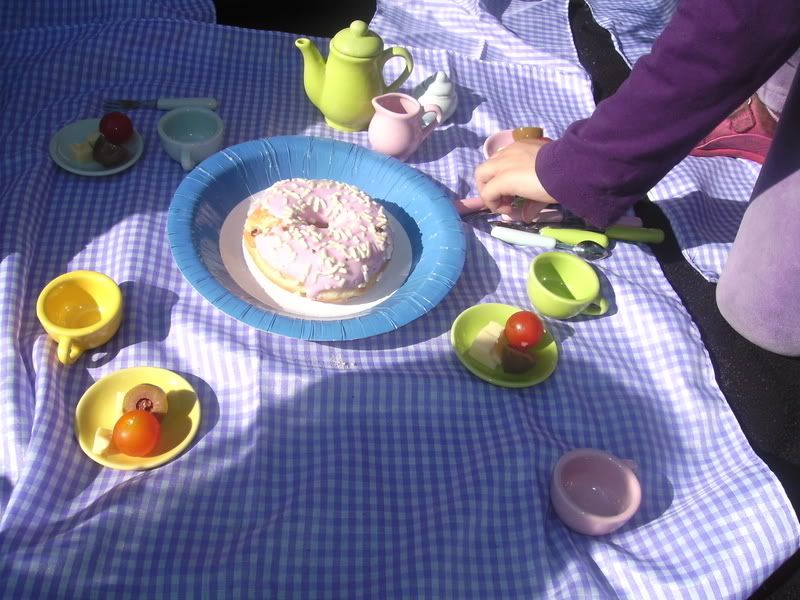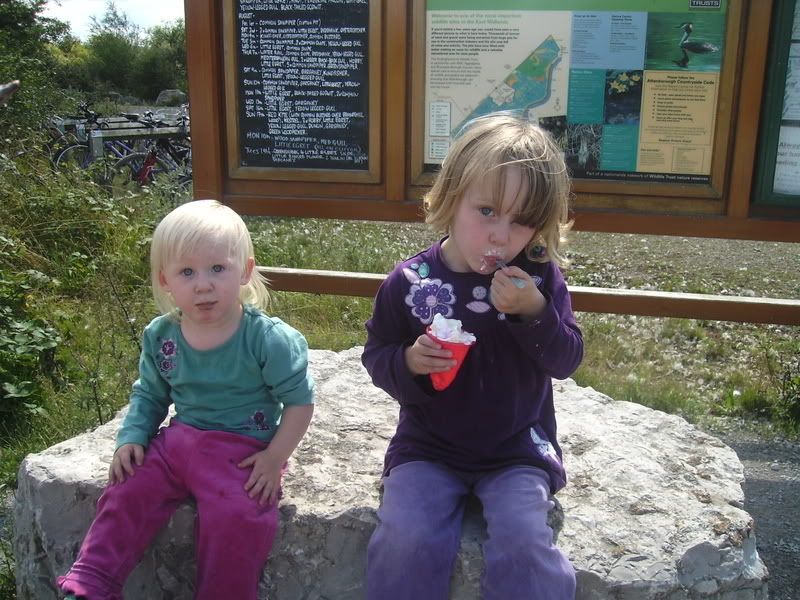 It may have looked a little like child paradise to her, but it was parent hell to me! Even as a child I remember thinking what an awful lot of rubbish there was - anyway, Jenna seemed to feel the same and apart from regularly saying "wow" at all the glitter and colour, she didn't seem to actually want to look at anything. She chose a pink blanket for her doll, and a pink wooden kitchen set for her doll's house. The only other thing she so much as paid any interest to was a HUGE pink plastic motorised scooter thing, which she was reluctantly removed from so that we could go for our meal with grandparents.
After Jenna with the breastfeeding ponies, the one thing that *really* disturbed me was a mother and baby fuzzy chimp soft toy. Complete with banana-shaped bottle... ???!!??!
Anyhow, meal very nice. Presents from In-Laws surprisingly inappropriate given my strict instructions that we had GOTTEN RID of our plastic toys and didn't want any more - especially since they knew we had bought wooden horses. So what is the point in buying ugly plastic ponies as well? We have put them in the kitchen to see if Jenna asks for them, and so far she hasn't. They did also choose a lovely little green wooden horsebox with rider - and her name on the side. So they do listen - kind of - when it suits them. ;)
She keeps telling me that she isn't a little girl any more, she's a big girl. And things like that. It's lovely that she's so excited about getting older, but I also keep reminding her that she'll always be my baby and it's OK to be small sometimes too if she wants to. I don't want her to be in too much of a rush!
I'm so proud of her, the lovely sweet-natured, funny, serious, crazy, lively, gentle, loving person that she is. She climbs onto the A frame of the swing and stands there head and shoulders above the apple tree. She has to give Morgan a bite of anything nice she is given to eat, without a thought about how much will be left for herself. She grows more beautiful every day.