We ate our sheaf loaf and said our prayers of thanks around a bowl of flowers picked from the garden, floating on a little pond along with Jenna's floating candles. The girls are always more ready to volunteer a prayer or something they want to talk about over twinkling candle lights - I think excluding children from understanding the rituals of Church is a big mistake. In our Church tradition the girls are not allowed to take communion until after they have been confirmed (we haven't had them baptised in the first place so, another quirk of some Anglican traditions, they would be baptised and confirmed at the same time if they so chose when older).
At home we break bread together, and once a year share what we think of as "real" communion - the Seder meal to celebrate passover. I guess at our Church we're thought of as quirky, even by some to be bordering on the sacreligious. Why shouldn't my children stay in the service and chatter through it quietly? Enough of the grown-ups interrupt the service from time to time and are tolerated. ;) Why shouldn't they take communion as solemnly as children can, understanding it at the level they accept everything at? Assuming that their understanding is any worse than most adult communicants is probably also a grave mistake.
Anyhow anyhow, the significance of some special times set aside for expressing thankfulness we should feel all year round is certainly not beyond them.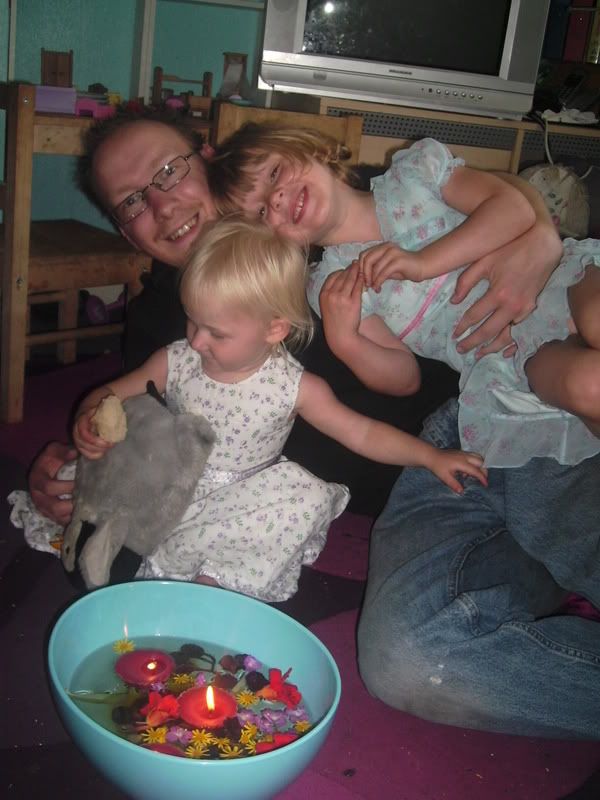 Morgan has about twenty new words this week - this afternoon she noticed that I haven't wiped up all the flour from our bread making and said, "Oh NO! Dordy! Dordy!" Yes Morgan, dirty! She makes me giggle, she's such a little stress-head about mess and I have no idea where she gets it from... ;)