Squee was here again. :) We had a board games night on friday at which I cooked for ten people (pasta with pesto - and fresh bread) and totally lost at Scrabble. This is the most serious I have EVER seen Leanne looking.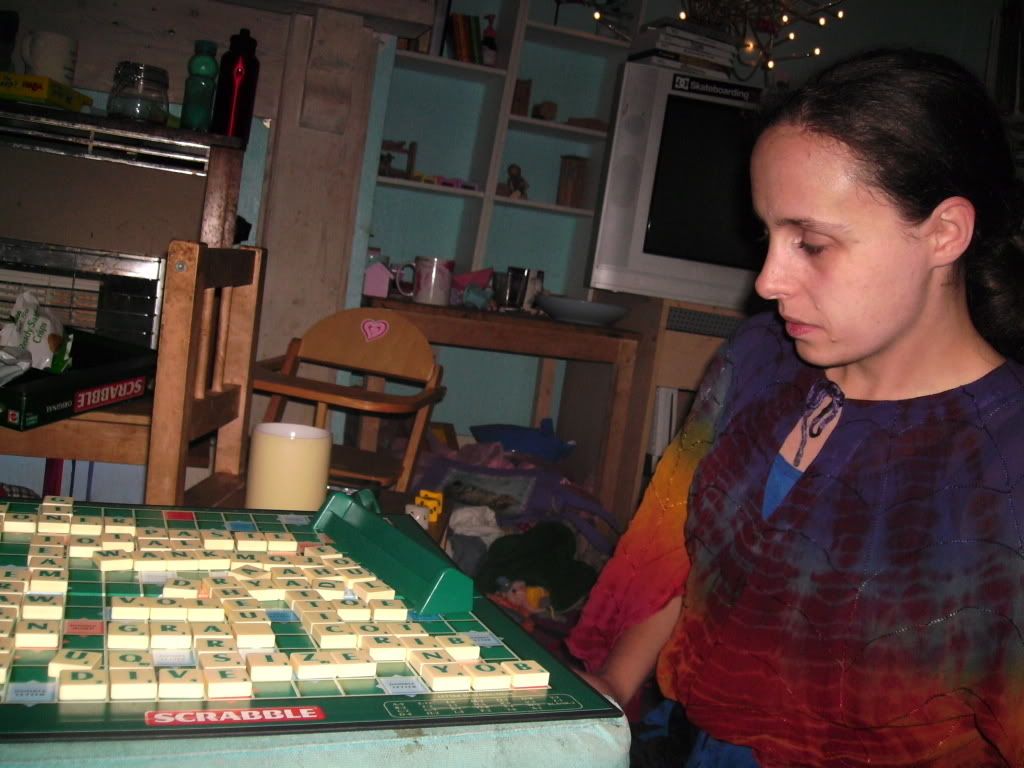 Saturday morning we had apple dipped in honey, and fresh round loaves of raisin Challah for breakfast. This is my new favorite recipe and it is serious special occasion bread.
200ml water
50g honey
2 whole eggs and 1 yolk
50g melted butter
600g white flour (plain flour or bread flour, either works fine)
2tsp yeast
pinch salt
I use the Tassajara method still, use half of the flour to make a paste which rises on its own for an hour before the salt and fat and the rest of the flour go in for kneading. :) Try plaited loaves! This quantity makes two. :)
We spent the entire weekend doing activities and enjoying the fairtrade stalls (and veggie burgers) at Ecofest. We spent every last penny in Martin's bank account too lol, but it was worth it.
Here we have Martin's new warm winter hat, with dragon spikes... A £1-from-La-Leche-League nappy (I now know where they meet again! And I can get there!)... Fairtrade Palestinian olive wood candle sticks (Leanne sneaked back and bought them when I wasn't looking because I was dithering about whether I could afford them)... And a very warm furry soft blanket made from recycled plastic (!).
And in this frame lol - my new hat, with flower... More nappies... And Jenna's new long skirt (purple, to the right) and mine (patchwork orange, to the left).