So a while back I promised a picture of Morgan's birthday present. Maybe that wasn't here, but anyhow, I know you all hang out in the same places lol, so here it is.
We've been doing more Christmassy making, decorations and the like. Today we're all about the paper chains. I'm not sure my house is ever going to be unglued again. Anyway, later when Martin gets home the tree is going up and the nativity is going to take over the mantlepiece and all of the wintery clutter *currently* up there is going onto the season table. So no doubt this week will be full of seasonal pictures from me!
More soap making...
A wire and bead season table make (not for me but shh, it's a secret)!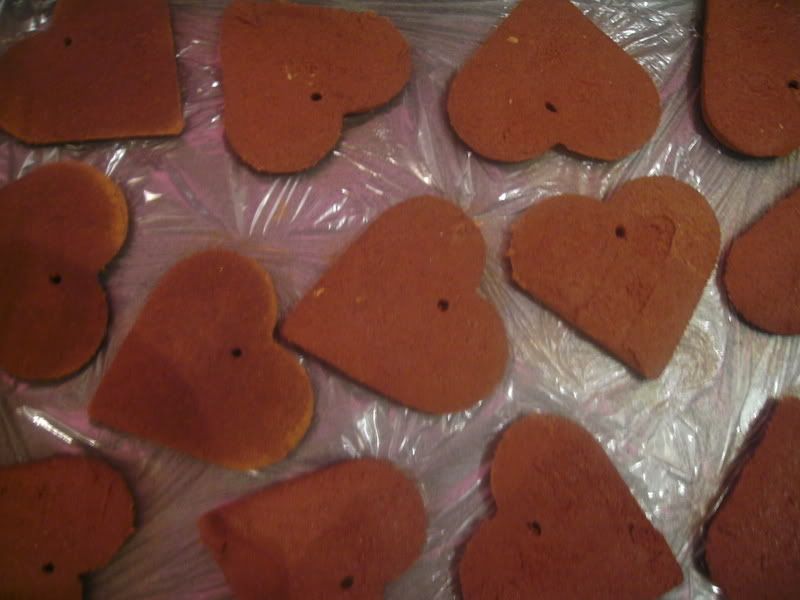 Scented cookie decorations (apple sauce, PVA glue, and cinnamon) all ready for gingham ribbon and white painted "icing"...
Not sure if the children are coming down with something. Jenna at least is really droopy, and Morgan felt unusually warm last night and woke twice for milk so I'm keeping my eye on them. Once we get the paperchains off the floor and out of the way a little we're going to make fudge (I finally found non-nestle condensed milk!) and then hopefully walk to the post office.
Jenna isn't keen on the idea of going anywhere today, but I'm not sure how long I can stay Nice Mummy if we don't get fresh air. This is my first full day on my own with them in nearly two weeks and I'm determined not to ruin it by being hysterical. Even though when I woke up this morning I could hear little voices downstairs and that turned out to be the children eating tonight's surprise pudding for their breakfasts...
And lastly, can I say one more time that I am REALLY SICK of being told that the best way for me to stop being depressed would be to send the children to nursery/wean Morgan/stop babywearing/slow down. It's these things that are keeping me here, for now, and the last thing I need is to stop the things that make me feel I actually can do this, do at least *something* the way I want to. And can you imagine me dealing with depression PLUS hormonal low from weaning??